OUR EQUIPMENT
All the equipment at Midwest Manure is late model. Equipment upgrades are a constant to keep up with increasing demand.
-Mobilestar Pump Controls-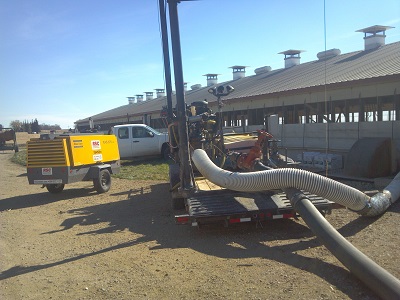 All lead and booster pumps are equipped with Mobilestar Pump controls. This allows one operator to monitor up to 6 pumps all from a computer screen. With a simple internet connection, all pumps can be monitored for incoming and outgoing pressures, sped up or slowed down, and turned on and off as needed. This has resulted in increased production as well as safety. Gone are the days of needing to hire a person to monitor individual pumps.
Lagoon Agitation Boat-
With the PCE Lagoon agitation boat, we have been able to effectively agitate lagoons up to 20 million gallons in size with a single machine. We do not need to have 4 lagoon pumps running burning up diesel fuel. Instead of using 40 gallons of diesel fuel per hour, we use only 6 to 8 gallons. This allows us to pump more economically, translating into lower fees for our customers.
-Feederline-
Currently we have nearly 3 miles of 8" feederline to help meet high flow rate demands. We have been able to successfully reach 2700 gpm using 8" line. In addition, we have over 2 miles of 6" hose which is used mostly in low application rate finishing barn work. In total we have the ability to pump just over 5 miles with our owned hose, with the farthest pumping distance completed to date being 6.5 miles.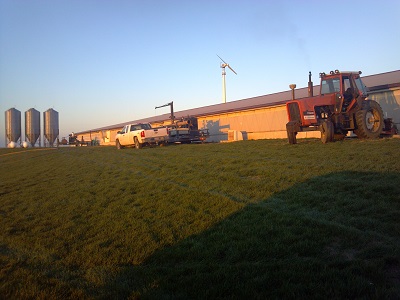 -Lead/Booster Pumps-
All pumps utilize John Deere 375 horsepower 9.0L engines coupled with Cornell 6nhtb19 pumps. Each pumps is equipped with Mobliestar pump controls to allow remote control and monitoring of pumps. In our effort to continually improve flow rates, we will be adding 550 hp 13.5L John Deere engines to reach the 3000 gpm mark.
-Toolbars-
Several different toolbars are available. Generally we use Deitrich style shanks for anything from medium to high rate applications. It is a very versatile tool, providing good coverage while at the same time being classified as a non-till shank. We have also added a rolling coulter VTI toolbar for lower to medium rate applications. The VTI row units provide excellent trash flow and take very little power. Typical ground speeds with this bar range from 6 to 7.5 mph. We are currently using a tractor mounted swing arm for both types of row-unit allowing nearly 100% end-row coverage.